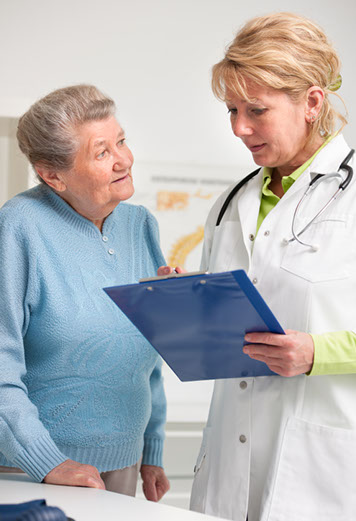 Making the Most of a Doctor Visit for You and Your Loved One
Effective communication is important for you and your family when someone you love has Alzheimer's or related dementia. Always include your loved one in cover-sation with the doctor during the examination so they are a part of conversation. They should always have someone to accompany them to ensure the doctor is receiving accurate information. It is natural for anyone to get nervous at a doctor appointment and having someone at the visit will offer comfort. If you have topics you wish to cover in private with the doctor, set up a separate appointment. Below are recommendations to prepare you to get the most from the appointment.
When visiting the doctor:
Call ahead- if there is a pressing concern notify the doctor before arrival
Always bring current medication bottles including vitamins and supplements
Take notes so you can review information later
Bring a current physician list including phone numbers of who is treating your loved one
Discuss any mood or behavior changes-provide specifics. The more information you provide the more suggestion the doctor can offer.
Be prepared should there be a wait-bring snacks/bottled water and distractions to keep your loved one occupied
Ask if there is any literature you can review and take home
Ask questions-it is always okay to ask for clarification
Print out our form to help you prepare your loved one for a doctor's visit.